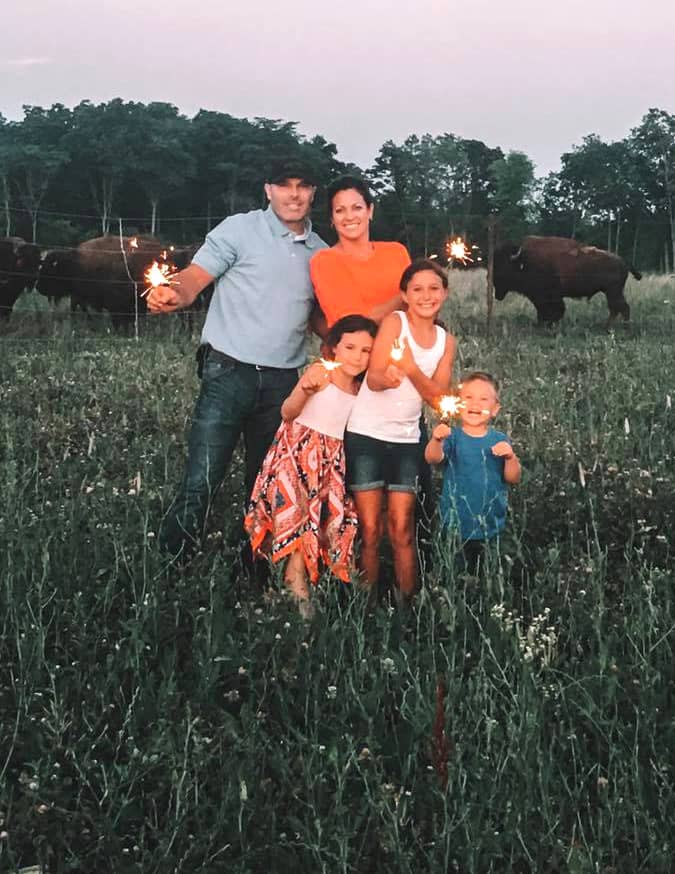 We are passionate about raising healthy animals!
We are committed to raising 100% grass-fed and grass-finished bison, and pastured chickens allowing for the natural growth cycle of each animal. We promise to respect the created animal and the created land on which we are blessed to raise them.
The aim of our philosophy is to raise our animals with quality nutrition and health through freedom of movement, pasture management, rotational grazing, and improved soil structure which all results in healthier, tastier products for you, the consumer.
We are also committed to continuing our learning and improving our practices to ensure we always provide our customer with the best and healthiest product possible … from our farm (and family) to your table.
Thank you for your support of our ranch and our family. God Bless You.

Committed to raising a healthy product.
Our Story
Our dream of Grassroots Bison Ranch was first realized in 2012 as the answer to our growing desire to raise healthy food for ourselves, family, and community. Being acutely aware that questionable labeling guidelines and some marketing deception were causing health conscious people to unknowingly purchase an inferior product, ourselves included, we were determined to raise a healthy product with transparency and honesty.
Grassroots started with the intention to raise "a few animals", but the ranch, which was operated with extended family, quickly grew to over 200 head of bison. We were motivated by our customers' ongoing demand for an honest and healthy product. And, also blessed by its acceptance into several restaurants, farmer's markets and meat shops which resulted in continued growth.
Through a series of life trials we reached a critical moment when we realized the need for a "wise pause" in order to reset and recommit to our original goal and ongoing conviction to our priorities of God and family. So, we restructured, slowed down, and started over. After acquiring the current property in 2018, we went to work healing the soil and planning for a new start. With the addition of the current bison herd to the property, the dream was once again realized. We are committed to raising bison, chicken, and hopefully more products coming soon in a manner that is healthy to the animal, the land, and you – the consumer.
Our Philosophy of Raising
We are committed to raising 100% grass-fed and grass-finished bison, and pastured chickens by using the following methods of raising.
Get the Best Resources & Recipes
Recent articles
How to Grill a Bison SteakGrill, Broil or Pan-Fry (Lightly oil skillet if pan-cooking)A cut 1 inch or thicker is desirable.Bring steaks to room temperature BEFORE cooking. Cooking cold meat toughens muscle [...]
How to Cook BisonThere is no reason to be buffaloed when cooking with bison. As many chefs will attest, bison is a delicious and healthy substitute in any recipe that calls for [...]
Safe Defrosting MethodsAs soon as raw or cooked meat, poultry or egg products begin to thaw and become warmer than 40 °F, bacteria that may have been present before freezing can begin [...]